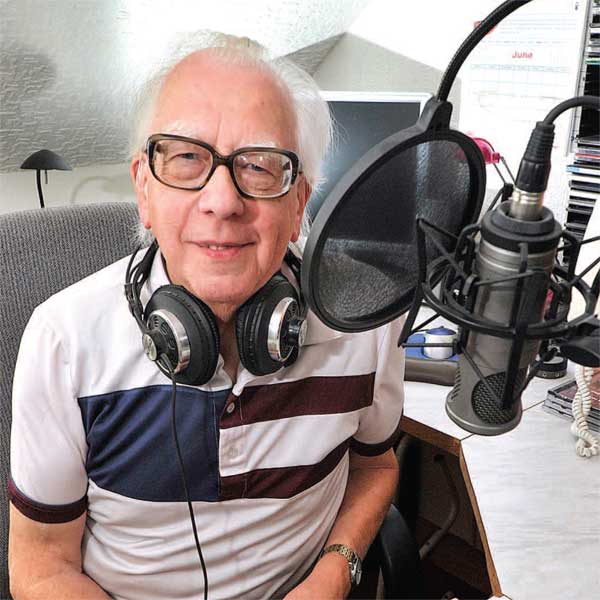 ORGAN1st Radio is presented by ex-BBC broadcaster Alan Ashton. The monthly sixty-minute Podcast features old and new recordings of theatre organs, electronic organs and keyboards and covers everything from Wersi to Wurlitzer and Hammond to Compton. You can
contact Alan Ashton
.

You may also like to visit
KlausWunderlich.com
a website dedicated to the late German Organist.
This website is maintained by MSS Studios who run
ORGAN.co.uk
where many current recordings can be purchased.
The audio will start automatically, click || to pause and drag the bar to navigate. You can download all shows from our Archive Page.
HOW TO DOWNLOAD Right-click the Download button
& choose "Save Target As...", "Save Link As..." or "Download Linked File".
This special show, "One-hundred and fifty not-out!", celebrates one-hundred episodes of ORGAN1st Radio and the fifty year career of Howard Beaumont.

Congratulations
Ian Griffin - Special Recording

'Deed I Do
Jerry Allen - Jerry Allen Organises The Royal Free (LP)

Rockin' Robin
Howard Beaumont - Howard Beaumont Plays The Hammond M100 (LP)

Just One Of Those Things
Simon Gledhill - The Fox Album (Deleted CD)

Autumn In New York
Howard Beaumont - Cinema Organ Encores Vol. 54 (LP)

I Want To Be Happy
Howard Beaumont - Cinema Organ Encores Vol. 54 (LP)

Come Dance With Me
Ray Bohr - Private Recording

If I Didn't Care
Howard Beaumont - Howard Beaumont Plays (LP)

Someone To Watch Over Me / Embraceable You
Howard Beaumont - The Melody Lingers On (Deleted CD)

Nola
Chris Hamalton - Dizzy Fingers (LP)

Bye Bye Blues
Leroy Lewis - Organ Magic (LP)

Nobody's Sweetheart Now
Lenny Dee - In Dee-Mand (Double CD)

I Wish I Knew How It Would Feel To Be Free
Howard Beaumont - Swings The New Hammond B3 (Deleted CD)

Memphis Tennessee
Klaus Wunderlich - Around The World (LP)

By The Zyder Zee
Reginald Dixon - On The Continent (LP)

The Rose
Howard Beaumont - Tap Your Troubles Away CD

Here's To The Next Time
John Kyffin - Private Recording
Mailings contain details of new organ CD & DVD releases plus details of the ORGAN1st Radio shows. They are sent 2-3 times per month and you can unsubscribe at any time by clicking the link at the bottom of the emails.

The newsletters will come from the email address of organfirst@btinternet.com so please make sure the mailings are not being blocked or being put into your Spam folder.

Please note that clicking the 'return to our website' button after clicking the 'subscribe' button will take you to our organ.co.uk site. Click the 'back' button in your browser to get back to this page.