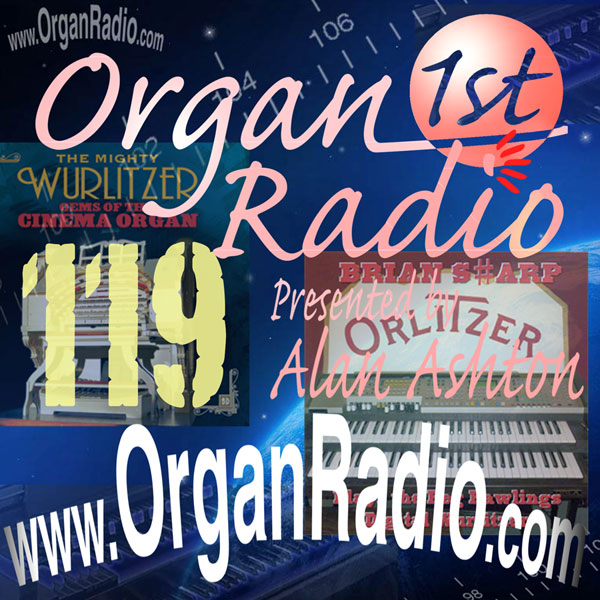 ORGAN1st Radio is presented by ex-BBC broadcaster Alan Ashton. The monthly sixty-minute Podcast features old and new recordings of theatre organs, electronic organs and keyboards and covers everything from Wersi to Wurlitzer and Hammond to Compton. You can
contact Alan Ashton
.

You may also like to visit
KlausWunderlich.com
a website dedicated to the late German Organist.
This website is maintained by MSS Studios who run
ORGAN.co.uk
where many current recordings can be purchased.
The audio will start automatically, click || to pause and drag the bar to navigate. You can download all shows from our Archive Page.
HOW TO DOWNLOAD Right-click the Download button
& choose "Save Target As...", "Save Link As..." or "Download Linked File".
John Beesley, Sydney Gustard, Keys Hammond, Maria Kumagai, Brian Sharp, Graeme Wright, Phil Kelsall, Reginald Dixon, Penny Weedon, Yuri Tachibana, Chiho Sunamto, Mark Shakespeare and Carol Williams.


Lunch Boxer (Show Theme Tune)
Jerry Allen & His Trio
The Music Of Jerry Allen & His Trio CD
Toccata In G (Dubois)
John Beesley
Colours
CD
Nola
Sydney Gustard
The Mighty Wurlitzer - Gems Of The Cinema Organ
(Compilation CD)
Some Of These Days
Keys Hammond
Restored 78rpm
Prelude In C Sharp Minor (Rachmaninoff)
Maria Kumagai
Organ Dreams (LP)
Poeme (Fibich) Brian Sharp
Brian Sharp
OrliTzer - Volume 1
CD
Prelude From The Victorian Kitchen Garden Suite
Graeme Wright
Private Recording
Scaramucce
Graeme Wright
Private Recording
Berceuse From The Dolly Suite
Phil Kelsall
The Classic Collection (Deleted CD)
Gopak
Reginald Dixon
At The Rodgers Organ (LP)
Fountains Of The Alhambra
Penny Weedon
Postcard From Europe
CD
Flight Of The Bumble Bee
Yuri Tachibana
Organ Chat 3 (Deleted CD)
Fossils / Finale (From Carnival Of The Animals)
Chiho Sunamto
Something For Everyone (Deleted CD)
Bohemian Rhapsody
Mark Shakespeare
Crystal Clear (Deleted CD)
Toccata From Suite Gothic
Carol Williams
By Request (Deleted CD)
Mailings contain details of new organ CD & DVD releases plus details of the ORGAN1st Radio shows. They are sent 2-3 times per month and you can unsubscribe at any time by clicking the link at the bottom of the emails.

The newsletters will come from the email address of organfirst@btinternet.com so please make sure the mailings are not being blocked or being put into your Spam folder.

Please note that clicking the 'return to our website' button after clicking the 'subscribe' button will take you to our organ.co.uk site. Click the 'back' button in your browser to get back to this page.