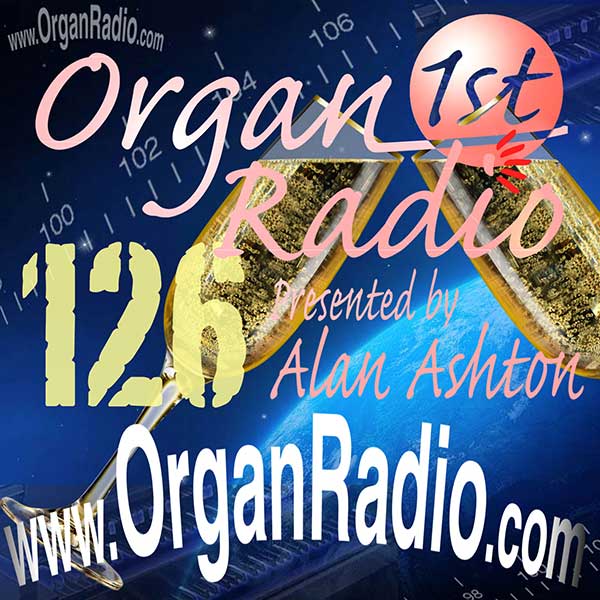 ORGAN1st Radio is presented by ex-BBC broadcaster Alan Ashton. The monthly sixty-minute Podcast features old and new recordings of theatre organs, electronic organs and keyboards and covers everything from Wersi to Wurlitzer and Hammond to Compton. You can
contact Alan Ashton
.

You may also like to visit
KlausWunderlich.com
a website dedicated to the late German Organist.
This website is maintained by MSS Studios who run
ORGAN.co.uk
where many current recordings can be purchased.
The audio will start automatically, click || to pause and drag the bar to navigate. You can download all shows from our Archive Page.
HOW TO DOWNLOAD Right-click the Download button
& choose "Save Target As...", "Save Link As..." or "Download Linked File".
John Mann, Dudley Savage, Don Baker, Keith Beckingham, Al Bollington, Gerald Shaw, Harry Stoneham, Ronald Curtis, Chris Barber, George Wright, Miguel Ramos, Jim Riggs, Jelani Eddington, Ian Darlington, Jackie Davis, Lenny Dee and Ralph & Buddy Bonds.

Food Glorious Food
John Mann
Eminent-Ly Yours (LP)

A Party Mood
Dudley Savage
Nostalgically Yours (Cassette)

That Old Black Magic
Don Baker
I Got Rhythm (Deleted CD)

Pink Champagne
Keith Beckingham
The Flying Hammond (LP)

Blue Champagne
Al Bollington
Serenades In Blue (LP)

Whiskey Galore
Gerald Shaw
The Regal Sound (LP)

Apples & Pears
Harry Stoneham
Lowrey Organ Dynamics (LP)

Tangerine
Ronald Curtis
The Rex Sound (Cassette)

Barcelona
Chris Barber
Espana: A Celebration Of The Music Of Spain CD

Y Viva Espana
Chris Barber
Espana: A Celebration Of The Music Of Spain CD

Oodles Of Noodles
George Wright
Red Hot & Blue (Deleted CD)

Popcorn
Miguel Ramos
Miguel Ramos At The Hammond Vol.10 (Deleted CD)

Peanut Polka
Jim Riggs
Plays The Grande Barton Organ (Deleted CD)

Chicken Reel
Jelani Eddington
From This Moment On (Deleted CD)

Tequila
Ian Darlington
The Best Of... (Deleted CD)

Coffee Time
Jackie Davis
Jumping Hi-Fi Hammond (Double CD)

Auld Lang Syne
Lenny Dee
Christmas Cracker

The Party's Over
Ralph & Buddy Bonds
Stagestruck (LP)

Lunch Boxer (Show Theme Tune)
Jerry Allen & His Trio
The Music Of Jerry Allen & His Trio CD

Mailings contain details of new organ CD & DVD releases plus details of the ORGAN1st Radio shows. They are sent 2-3 times per month and you can unsubscribe at any time by clicking the link at the bottom of the emails.

The newsletters will come from the email address of organfirst@btinternet.com so please make sure the mailings are not being blocked or being put into your Spam folder.

Please note that clicking the 'return to our website' button after clicking the 'subscribe' button will take you to our organ.co.uk site. Click the 'back' button in your browser to get back to this page.